The International and Multi-Regional Membership Center of Latinos in the USA
Amazing Birdhouses in Texas
Asombrosas Casitas para Pájaros en Texas
Driving on highway 290 from the city of Houston to Austin, one finds a
small community in the middle of Fayette and Washington Counties, in
Texas.
The community name is Carmine with a population of about 231
residents according to the latest census of 2010. Several antique
shops are aligned along the highway offering a variety of options for
those looking for a bargain.
One of the most relevant places to stop and visit is a unique business
by the name of

Burt's Birdhouses

. Located near the city limits on your
way back to Houston, this business will certainly call your attention for
some time.
Family operated, Frank Burt (father)
and Chris Burt (son) have managed
this unique business for about 40
years! Originals from Carmine, the
family Burts has produced amazing
birdhouses, extraordinary pieces of
fine craftsmanship!
Mr. Frank Burt Founder of Burt's Birdhouses
Sr. Frank Burt Fundador de Burt's Birdhouses
One may think that a birdhouse is made by a number of pieces of wood
cut and put together in different shapes resembling our human houses,
although the birdhouses manufactured by the Burts may resemble a
human house extracted from an infant storybook, the kind of wood these
are made, the size and the diameter of the orifice to access the inside of
the main chamber (the door) is specifically dedicated to attract a specific
kind of bird. Is this amazing?
Apart from the amazing details involved in arriving to the final product,
the family Burt has managed to reach a national market from all over the
United States. Burt's birdhouses are in gardens and backyards at
hundreds of houses across the state of Texas and across the county.
Not only that, but hundreds of these birdhouses are today adorning
parks, gardens, balconies and backyards in other countries of the world.
The following are some of the great birdhouses the family Burt has in
exhibition at their shop in Carmine, Texas. Check them out!
Bird Feeder
Comedero para pájaros
Single and Multi Tenant
Sencillo
y
Condominio a la ves
Multi Tenant - Condominio
Multi Tenant - Condominio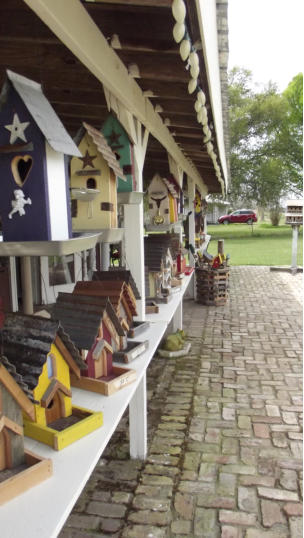 Front Exhibit Area
Area de Exhibición
Visitor at the Exhibition Area
Visitante en el área de exposición
Conduciendo por la autopista 290 desde la ciudad de Houston a Austin, se
encuentra una pequeña comunidad en medio de los condados Fayette y
Washington, en Texas.
El nombre de la comunidad es Carmine con una población de unos 231
residentes según el último censo de 2010. Varias tiendas de antigüedades están
alineadas a lo largo de la carretera que ofrece una variedad de opciones para
aquellos que buscan una ganga.
Uno de los lugares más relevantes para detenerse y visitar es un negocio único
con el nombre de

Burt's Birdhouses.

Situado cerca de los límites de la ciudad
en su camino de regreso a Houston, este negocio sin duda llamará su atención
durante algún tiempo.
Operado por la familia, Frank Burt
(padre) y Chris Burt (hijo) han
manejado este negocio único durante
unos 40 años! Originales de Carmine,
la familia Burts ha producido
birdhouses sorprendentes, piezas
extraordinarias de artesanía fina!
Uno puede pensar que una casa de pájaros
está hecha por un número de pedazos de
madera cortada y juntada en diversas
formas que se asemejan a nuestras casas
humanas, aunque las casas de pájaros
fabricadas por los Burts pueden parecerse a
una casa humana extraída de un libro
infantil, el tamaño y el diámetro del orificio
para acceder al interior de la cámara
principal (la puerta) está específicamente
dedicado a atraer un tipo específico de ave.
¿Es esto asombroso?
Aparte de los detalles asombrosos
implicados en llegar al producto final, la
familia Burt ha logrado alcanzar un mercado
nacional en todos los Estados Unidos. Las
casas de pájaros de los Burt están en
jardines y patios en cientos de casas en
todo el estado de Texas y en todo el
condado. No sólo eso, sino cientos de estas
casas para pájaros adornan parques,
jardines, balcones y patios en otros países
del mundo.
Las siguientes son algunas de las grandes
casas de pájaros que la familia Burt tiene en
exposición en su tienda en Carmine, Texas.
¡Veae para creer!