The International and Multi-Regional Membership Center of Latinos in the USA


OLD THREE HUNDRED. The name Old Three Hundred is sometimes used to refer to the
settlers who received land grants in Stephen F. Austin's first colony. In January 1821
Austin's father, Moses Austin, had received a permit from the Spanish to settle 300
families in Texas, but he died in Missouri a short time later before he could realize his
plans. Stephen F. Austin took his father's place and traveled to San Antonio, where he
met with the Spanish governor Antonio María Martínez, who acknowledged him as his
father's successor. Austin quickly found willing colonists, and by the end of the summer
of 1824 most of the Old Three Hundred were in Texas.
Brief Historical Data
Today's city of Richmond, the county seat, inadvertently gave birth to the city of Rosenberg by refusing right-of-way to the Gulf, Colorado and Santa Fe
Railway. In 1880 the railroad built three miles to the west of the Richmond area and established a station at the crossroads of the Gulf, Colorado and Santa
Fe and the Galveston, Harrisburg and San Antonio railroads.
An Italian count named Joseph Telfener established in Rosenberg the headquarters of the "Macaroni Line," the New York, Texas and Mexican Railway
building toward the City of Victoria.
The town that became the City of Rosenberg was named in honor of Henry Rosenberg, a Swiss immigrant, who settled in Galveston and from 1874 to 1877
was president of the Gulf, Colorado and Santa Fe Railway Company.
Henry Rosenberg (1824 - 1893), benefactor and namesake of Rosenberg Library, emigrated in 1843 from
Switzerland to Galveston where he made his fortune in banking, real estate, and transportation. Upon
his death in 1893, Rosenberg awarded a sizable port of his estate to build a public library:
Henry Rosenberg"... I desire to express in a practical form my affection for the city of my adoption and
for the people among whom I have lived for so many years, trusting that it will aid their intellectual and
moral development, and be a source of pleasure and profit to them and their children, and their
children's children, through many generations." –
Picture and text from Rosenberg Museum
Soon after the coming of the Macaroni Line and the Gulf, Colorado and Santa Fe Railway in 1883, Santa Fe purchased 200 acres from the Henry Scott
league and platted and squared them off around a city square between the river and railroads, at the site of the present Jackson Intermediate School on
Third Street.
Father of Rosenberg
The town at that time had a store, a saloon, and Mrs. Ebell's hotel, although most residents lived in tents. In 1881 a post
office opened, and in 1894 a Wells Fargo shipping office came to town. A new resident, R. T. Mulcahy, raised funds to
build the first school. That was the first of many community enterprises that earned Mulcahy the nickname "Father of
Rosenberg."
Richard T. Mulcahy was born in Louisville, Kentucky, on March 4, 1854, died on July 20, 1931, in Rosenberg and was
buried in the Woodmen of the World cemetery.
Between 1890 and 1900 the population increased to 1,000, with the coming of the Czechs, Germans, and Poles.

POLES

. The first Polish immigration to America, extending from 1608 to 1775, consisted of only a
few adventurers or religious refugees; it was not until the period from 1776 to 1853 that political
refugees from the Napoleonic Wars, the partitions of Poland, and the Polish Revolution of 1830
influenced immigration to Texas.
Two black churches, Mount Vernon Missionary Baptist started in 1882 and St. Luke's Methodist started in 1883, and are still active.
The First Methodist Church was organized in 1895, and the First Baptist Church was started in 1896. By 1898 Rosenberg had incorporated its school
district, and voters passed a bond to build a new school.
The First Methodist Church was organized in 1895
Picture F.Chaparro PVC
Mount Vernon Missionary Baptist started in 1882
Picture F.Chaparro PVC
Seabourne Creek Nature Park
Picture F.Chaparro PVC
First Baptist Church was started in 1896
Picture F.Chaparro PVC
Did you know this?
•
The Union Depot was built in 1889
•
The town got its first telephone, located in the Cumings Drug Store, in 1902,
•
A Masonic lodge was established in 1903.
•
By 1906 there were 100 telephone subscribers, enough for Pat Roberts to set up a Southwestern Bell Telephone switchboard in Kubena's Boot Shop
in the Moers Building.
•
In 1912 the first electrical generating plant was built
•
In 1912 Rosenberg had fifty-six businesses.
•
Rosenberg suffered floods in 1913, 1922, 1929 and 1957.
•
In 1914 a volunteer fire department was started
•
In the same year, C. H. Waddell established the Fort Bend telephone company in Needville.
•
In the early 1920s, major oilfields were developed in Fort Bend County, and Rosenberg became a boomtown.
•
The first hospital was built in 1922.
•
Following the discovery of sulfur at nearby Orchard, workers in the sulfur industry also augmented the population.
•
In 1945 the town estimated 3,457 residents and 128 businesses
•
By 1956 the total had almost doubled to 6,210 residents and 234 businesses.
•
Through the 1960s and the 1970s the growth continued.
•
Rosenberg had a population of 17,900 in 1980 and 21,577 in 1990.
•
In 2000 the population was 24,043.
•
The business and industrial base in Rosenberg is growing by the minute as this article is written.
Farming and agribusinesses are also important in the local economy.
•
The area produces:
•
Livestock,
•
Cotton,
•
Rice,
•
Sugar,
•
Sorghums,
•
Pecans,
•
Feed,
•
And some vegetables
The town provides low site and construction costs, varied transportation facilities, inexpensive fuel, low living costs,
good schools, and ample recreational facilities as well as an abundance of historical sites, museums, and memorials.
Rosenberg has a daily newspaper, the Fort Bend Herald. Its residents support forty-seven churches of seventeen
communions. In 1946 Rosenberg and Richmond formed the Lamar Consolidated Independent School District, which
serves more than 13,000. There are also two church schools, one Catholic and one Episcopalian. The community holds
the Fort Bend County Fair in September.
Source of information Texas State Historical Information
Downtown Rosenberg, A Walk Through Time
Visiting Rosenberg Old Downtown is a wonderful experience! The ambiance engulfs
the visitor in a sense of history and yet a few blocks away, modern Rosenberg exhibits
state of the art new commercial areas with city lights and all the amenities one may
need.
Third Street downtown offers visitors a journey to the past, with several antique shops,
unique restaurants, bakeries, jewelry stores, western wear stores, museums and many
other business and buildings delivering to our senses a singular perception of peace
but at the same time exploration of a golden period of time that refuses to vanish, at
least here in Rosenberg.
As many residents have expressed to us, Rosenberg offer this unique fortune of living
in a wonderful and amazing environment and yet, we are 30 minutes away from the center of one of the most busiest, modern and alive city in the entire
nation!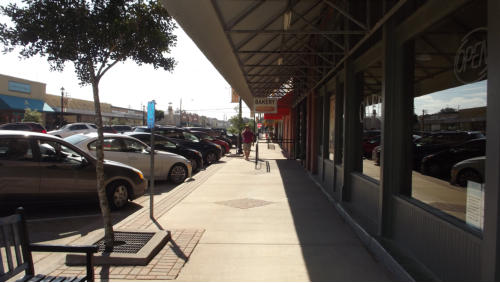 Third Street & Avenue F "Another Time Soda Fountain & Cafe"
Picture F.Chaparro PVC
Murals in Rosenberg Downtown Third Street and Avenue F
Picture F. Chaparro PVC
In preparation to Christmas Celebrations decorations at Open Theater on Third Street an Avenue F Picture F. Chaparro PVC
Ol' Rail Road Cafe on Avenue G and 2nd Street Rosenberg Downtown Picture F.Chaparro PVC
There are plenty of activities in Rosenberg for the entire family from festivals, parades, the Fort Bend County Fair and many more events organized by
different groups in collaboration with the City of Rosenberg.
There are nine parks within the city limits; here you have their names:
Brazos Park
320 Houston Street
Harwood Park
1005 Frances Drive
Macario Garcia Park
716 Blume Road
Riverbend Park
2601 Avenue A
Seabourne Creek Nature Park
3831 Highway 36 South
Seabourne Creek Regional Sports Complex
3701 Fountains Drive
Sunset Park
2017 Mulcahy Street
Tony Becerra Park
2000 Avenue A
Travis Park
3004 Avenue N
By the time this article was produced, they celebrated the 6th Annual Prairie Heritage Festival in Rosenberg

.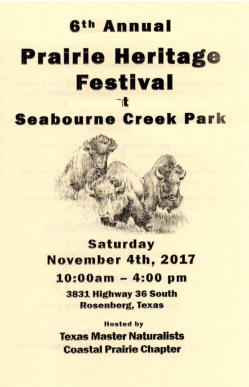 Rosenberg Rail Road Museum on 3rd Street and Avenue F Pictures F.Chaparro PVC
Visitors and exhibitors having a great time at the Festival Pictures F. Chaparro PVC
Lone Star Strummers, Dulcimer Music. A group of musicians at the Festival offering
wonderful music to liven up the atmosphere of the festival.
The Texas Master Naturalist, Coastal Prairie Chapter called the attention of
hundreds of visitors displaying amazing butterflies next to the Butterfly Garden at
the Seabourne Creek Park.

Rosenberg Texas
A Shining Jewel

The City of Rosenberg, Texas, is located at the center of the Fort Bend County and approximately
26 miles southwest of Houston Downtown. One of the cities with an astonishing growth,
Rosenberg welcomes new residents and visitors alike.
The area was originally settled by Stephen F. Austin's Old Three Hundred around 1823.
If you want to offer us your opinion, click on the button labeled My Opinion. Thank you.